Jenner Inn - Sonoma Coast - A Visitor's Guide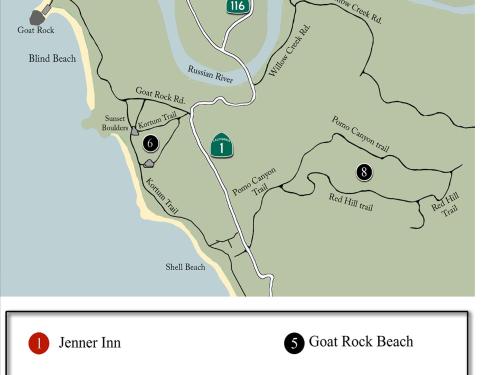 1) Jenner Inn
2) Russian River/Penny Island
3) Jenner Overlook
4) Jenner Headlands
5) Goat Rock Beach
6) Kortum Trail
7) Willow Creek Rd.
8) Pomo Canyon/Red Hill Trails
Contents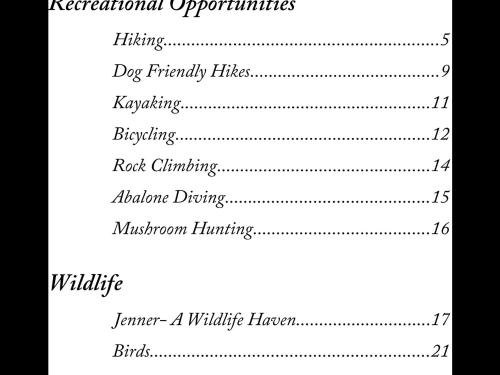 A Brief History
Recreational Opportunities
Hiking
Dog Friendly Hikes
Kayaking
Bicycling
Rock Climbing
Abalone Diving
Mushroom Hunting
Wildlife
Jenner - A Wildlife Haven
Birds
Marine and Aquatic Life
Terrestrial Animals
Wildlife Tips and Etiquette
A Brief History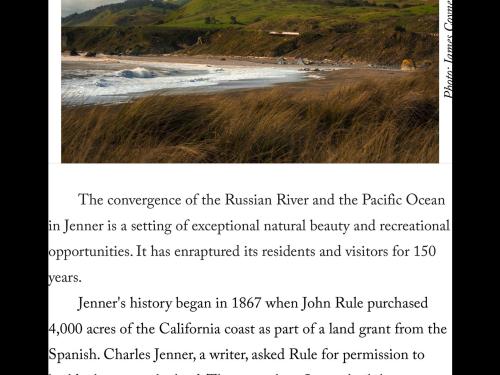 Photo: James Coyne

The convergence of the Russian River and the Pacific Ocean in Jenner in a setting of exceptional natural beauty and recreational opportunities. It has enraptured its residents and visitors for 150 years.

Jenner's history began in 1867 when John Rule purchased 4,000 acres of the California coast as part of a land grant from the Spanish. Charles Jenner, a writer, asked Rule for permission to build a home on the land. The spot where Jenner built became known as Jenner Gulch, which is currently the main hub of our little town.

After building his home in 1904, Mr. Jenner next built a lumber mill to supply timbers for both Santa Rosa and San Francisco. A hotel and post office were built shortly thereafter. The Mill was a major source of lumber used in the rebuilding of San Francisco after the 1906 earthquake.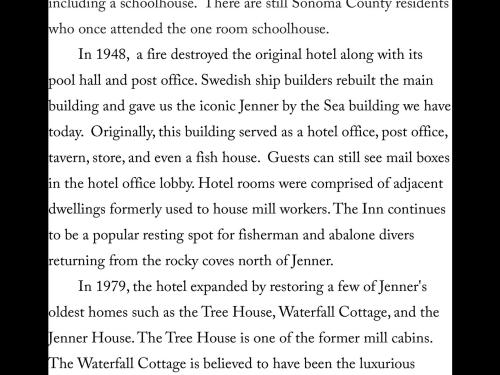 The mill closed around 1914, but the Jenner Gulch outpost began developing into a village that grew to 50 buildings, including a schoolhouse. There are still Sonoma County residents who once attended the one room schoolhouse.

In 1948, a fire destroyed the original hotel along with its pool hall and post office. Swedish ship builders rebuilt the main building and gave us the iconic Jenner by the Sea building we have today. Originally, this building served as a hotel office, post office, tavern, store, and even a fish house. Guest can still see mail boxes in the hotel office lobby. Hotel rooms were comprised of adjacent dwellings formerly used to house mill workers. The Inn continues to be a popular resting spot for fisherman and abalone divers returning from the rocky coves north of Jenner.

In 1979, the hotel expanded by restoring a few of Jenner's oldest homes such as the Tree House, Waterfall Cottage, and the Jenner House. The Tree House is one of the former mill cabins. The Waterfall Cottage is believed to have been the luxurious home of the mill's manager. The various rooms of Jenner House were added as additional accommodations to the Jenner Inn.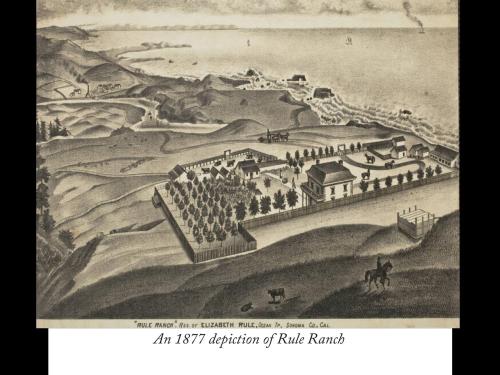 Photo: Sonoma Heritage Collection
An 1877 depiction of Rule Ranch
Hiking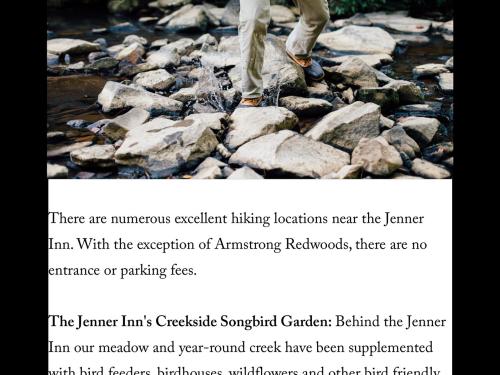 Photo: Tanner Vines

There are numerous excellent hiking locations near the Jenner Inn. With the exception of Armstrong Redwoods, there are no entrance or parking fees.

The Jenner Inn's Creekside Songbird Garden: Behind the Jenner Inn our meadow and year-round creek have been supplemented with bird feeders, birdhouses, wildflowers and other bird friendly attractions. This is a short and easy walk of about 300 yards to the back of the property and a cascading waterfall.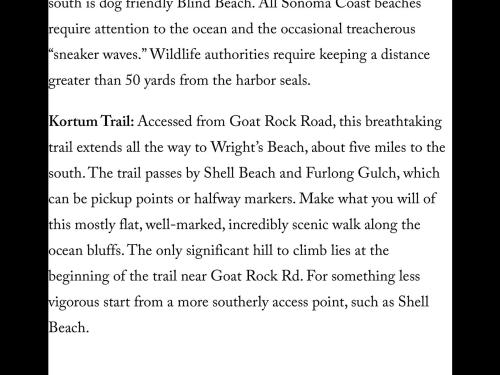 Goat Rock Beach: Drive south on Highway 1 two mile to Goat Rock State Park. From the parking lot you can walk along the beach, north or south. To the north is Goat Rock Beach near the mouth of the Russian River. This beach is a hotspot for marine mammals, shorebirds, waterfowl and other freshwater birds. To the south is dog friendly Blind Beach. All Sonoma Coast beaches require attention to the ocean and the occasional treacherous "sneaker waves." Wildlife authorities require keeping a distance greater than 50 years from the harbor seals.

Kortum Trail: Accessed from Goat Rock Road, this breathtaking trail extends all the way to Wright's Beach, about five miles to the south. The trail passes by Shell Beach and Furlong Gulch, which can be pickup points or halfway markers. Make what you will of this mostly flat, well-marked, incredibly scenic walk along the ocean bluffs. The only significant hill to climb lies at the beginning of the trail near Goat Rock Rd. For something less vigorous start from a more southerly access point, such as Shell Beach.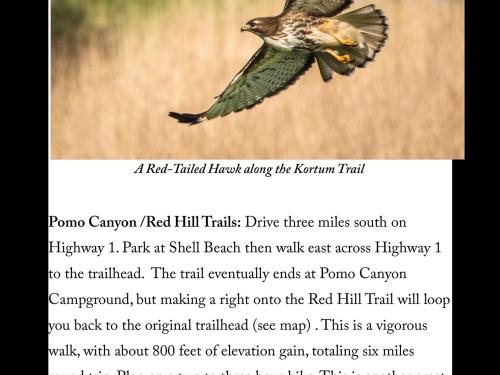 Photo: James Coyne
A Red-Tailed Hawk along the Kortum Trail

Pomo Canyon / Red Hill Trails: Drive three miles south on Highway 1. Park at Shell Beach then walk east across Highway 1 to the trailhead. The trail eventually end at Pomo Canyon Campground, but making a right onto the Red Hill Trail will loop you back to the original trailhead (see map). This is a vigorous walk, with about 800 feet of elevation gain, totaling six miles round trip. Plan on a two to three hour hike. This is another great place to find raptors such as hawks, kestrels, Northern Harriers, White-Tailed Kites, and the occasional owl. In addition to wildlife and Redwoods, expect spectacular ocean views.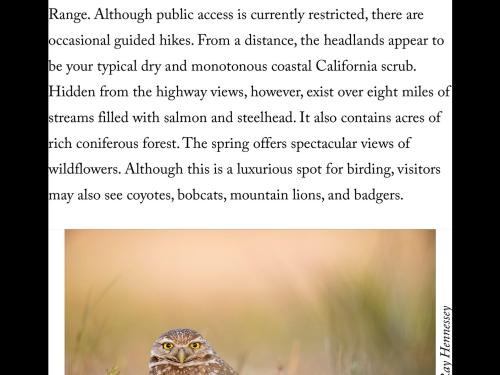 Jenner Headlands Trail: This 5600-acre trail complex located 2 miles north on Highway 1 is now open. From a distance, the headlands appear to be typical dry and monotonous coastal California scrub. Hidden from the highway views, however, are over 15 miles of trails and 8 miles of streams filled with salmon and steelhead. It also contains acres of rich coniferous forest. The spring offers spectacular views of wildflowers. Although this is an exceptional spot for birding, especially raptors, visitors may also see coyotes, bobcats, mountain lions, and badgers.

Photo: Ray Hennessey
Burrowing Owls are seasonal visitors in local grasslands
Dog-Friendly Walks
Photo: Matt Jones
There are 10 dog friendly beaches in a row beginning at Blind Beach and proceeding south: Blind Beach, Shell Beach, Furlong Gulch, Wright's Beach, Duncan's Cove, Gleason Beach, Portuguese Beach, Schoolhouse Beach, Carmet Beach, Marshal Gulch, and Arched Rock Beach all require dogs to be on a leash.
Armstrong Woods State Park:
A walk in the redwoods. The coast redwood is the tallest
living thing on the planet living to over 2000 years and growing to over 350 feet with a diameter of 12 to 16 feet. Armstrong Park is home to thousands of redwoods. There are many trails ranging from an easy one mile walk to a strenuous nine mile hike with elevations to 1500 feet. Dogs are welcome on the main paved road in the park, but not on unpaved roads or trails. In Guerneville, turn left at the first light. The park is 2.3 miles at the end of the road. There is an $8 vehicle fee, which includes parking.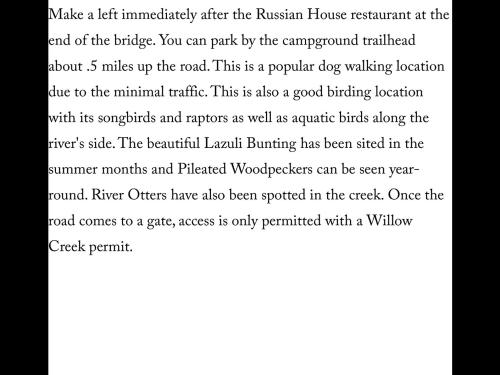 Willow Creek Rd.: Drive south on Highway 1 for 1.4 miles. Make a left immediately after the Russian House restaurant at the end of the bridge. You can park by the campground trailhead about .5 miles up the road. This is a popular dog walking location due to the minimal traffic. This is also a good birding location with its songbirds and raptors as well as aquatic birds along the river's side. The beautiful Lazuli Bunting has been sighted in the summer months and Pileated Woodpeckers can be seen year-round. River Otters have also been spotted in the creek. Once the road comes to a gate, access is only permitted with a Willow Creek permit.
Kayaking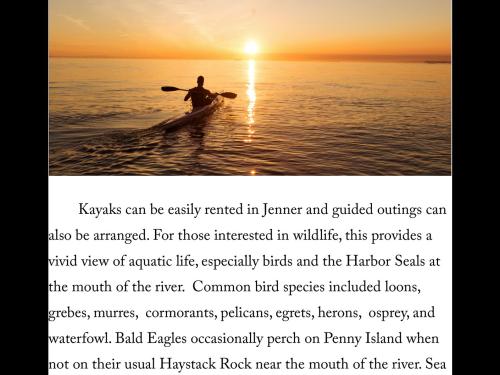 Photo: Patrick Fore

Kayaks can be easily rented in Jenner and guided outings can also be arranged. For those interested in wildlife, this provides a vivid view of aquaric life, espeically birds and the Harbor Seals at the mouth of the river. Common bird species included loons, grebe, murres, cormorants, pelicatns, egrets, herons, osprey, and waterfowl. Bald Eagles occasionally perch on Penny Island when not on their usual Haystack Rock near the mouth of the river. Sea Otters and River Otters also make occasional appearances. Please note that federal law requires staying at least 50 yards from seals.

Lotus Kayaks (707) 865-9604
Water Treks (707) 865-2249
Bicycling
Photo: Everton Vila

Jenner is the site of many bicycling opportunities. Guests can watch a portion of the Amgen tour in the summer. Bicycling is popular along Highway 1 and Highway 116, as well as the wine country roads. The public roads are narrow and shared with motor vehicles. Vigilance, common sense and courtesy are necessary for your safety and the safety of others, whether driving a car or riding a bicycle.

Willow Creek Rd. Out most recommended easy ride begins on Highway 1, just south of Jenner, at the Russian House restaurant. It offers a flat and scenic ride east along rolling hills, Willow Creek and lush riparian forest. The road eventually comes to a gate which marks the beginning of an area that is only accessible by permit.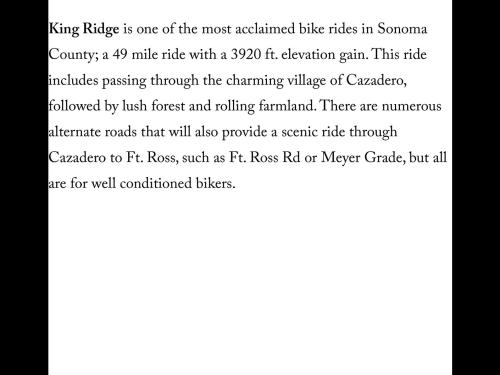 Armstrong Redwoods permits bicycles on the main paved road, but not the trails. Armstrong Woods is approximately a 15 mile bike ride from Jenner. Take Highway 116 to Guerneville, then turn left at the 1st stop light. Armstrong Woods is in approximately 2.5 miles from the light.

King Ridge is one of the most acclaimed bike rides in Sonoma County; a 49 mile ride with a 3920 ft. elevation gain. This ride includes passing through the charming village of Cazadero, followed by lush forest and rolling farmland. There are numerous alternate roads that will also provide a scenic ride through Cazadero to Ft. Ross, such as Ft. Rodd Rd or Meyer Grade, but all are for well condition bikers.
Rock Climbing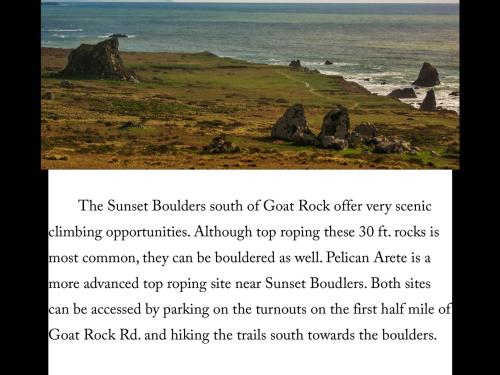 The Sunset Boulders south of Goat Rock offer very scenic climbing opportunities. Although top roping these 30 ft. rocks is most common, they can be bouldered as well. Pelican Arete is a more advanced top roping site near Sunset Boudlers. Both sites can be accessed by parking on the turnouts on the first half mile of Goat Rock Rd. and hiking the trails south towards the boulders.
Abalone Diving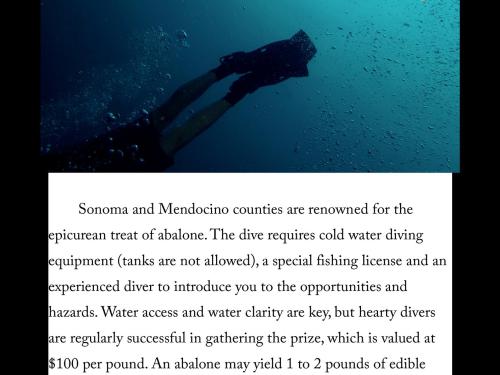 Sonoma and Mendocino counties are renowned for the epicurean treat of abalone. The dive requires cold water diving equipment (tanks are not allowed), a special fishing license and an experienced diver to introduce you to the opportunities and hazards. Water access and water clarity are key, but hearty divers are regularly successful in gathering the prize, which is valued at $100 per pound. An abalone may yield 1 to 2 pounds of edible meat. Above the hostess station in the restaurant is a chandelier composed of abalone shells found on the Sonoma Coast. Be sure and take a look at the giant abalone shell in the bar.
Mushroom Hunting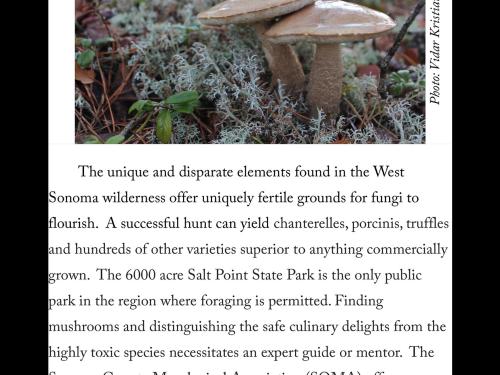 The unique and disparate elements found in the West Sonoma wilderness offer uniquely fertile grounds for fungi to flourish. A successful hunt can yield chanterelles, porcinis, truffles and hundreds of other varieties superior to anything commercially grown. The 6000 acre Salt Point State Park is the only public park in the region where foraging is permitted. Finding mushrooms and distinguishing the safe culinary delights from the highly toxic species necessitates an expert guide or mentor. The Sonoma County Mycological Association (SOMA) offers an annual three day workshop. If you are interested in pursuing the fascinating world of mushroom education and foraging, we suggest you contact them at
www.SOMAmushrooms.org
.
Jenner- A Wildlife Haven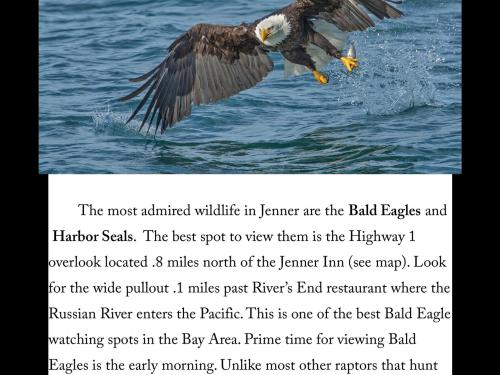 The most admired wildlife in Jenner are the Bald Eagles and Harbor Seals. The best spot to view them is the Highway 1 overlook located .8 miles north of the Jenner Inn (see map). Look for the wide pullout .1 miles past River's End restaurant where the Russian River enters the Pacific. This is one of the best Bald Eagle watching spots in the Bay Area. Prime time for viewing Bald Eagles is the early morning. Unlike most other raptors that hunt from dusk to dawn, bald eagles are such skilled hunters that they often satiate themselves early in the day. The eagles are commonly seen feeding on lampreys, an eel-like fish.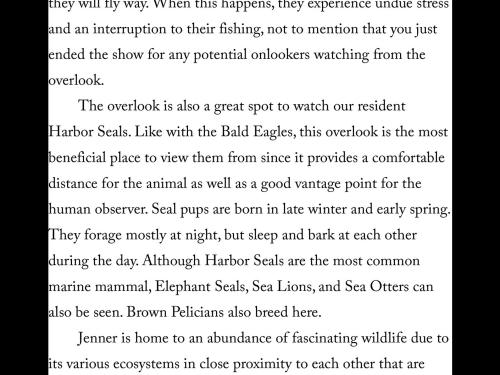 Local birders favor this overlook because the birds don't seem to be intimidated by a good sized audience. On the other hand, the eagles are very skittish when approached on the beach. If you find yourself walking on the beach and you see Bald Eagles, please remember that when you get within a few hundred feet of them they will fly way. When this happens, they experience undue stress and an interruption to their fishing, not to mention that you just ended the show for any potential onlookers watching from the overlook.

The overlook is also a great spot to watch our resident Harbor Seals. Like with the Bald Eagles, this overlook is the most beneficial place to view them from since it provides a comfortable distance for the animal as well as a good vantage point for the human observer. Seal pups are born in late winter and early spring. They forage mostly at night, but sleep and bark at each other during the day. Although Harbor Seals are the most common marine mammal, Elephant Seals, Sea Lions, and Sea Otters can also be seen. Brown Pelicians also breed here.

Jenner is home to an abundance of fascinating wildlife due to its various ecosystems in close proximity to each other that are protected by our communty's long-standing practice of respecting and preserving wildlife habitat. Within the combined 10 square miles of Jenner and the headlands, one can find over a dozen different types of habitats, including pacific coast, coastal prarie, happaral, oak woods, redwood forest, Douglas fir forest, meadow, grassland, riparian forest, coastal river, streams, wetlands, estuary, and ocean. All of this ecological diversity in one small region provides an incredibly fertile environment for wildlife to thrive.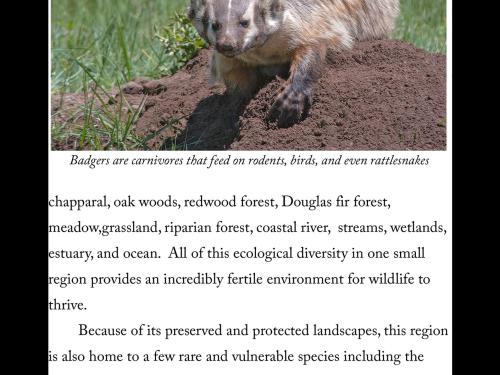 Photo: Alan D. Wilson
Badgers are carnivores that feed on rodents, birds, and even rattlesnakes.

Because of its preserved and protected landscapes, this region is also home to a few rare and vulnerable species including the American Badger, Northern Spotted Owl, Burrowing Owl, Red-Legged Frog, Foothill Yellow-Legged Frog, Steelhead Trout, and Coho Salmon.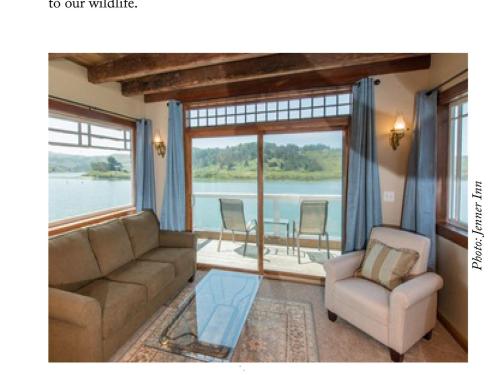 Guests of the Jenner Inn with an interest in wildlife need not go far. A variety of wildlife can commonly be seen from your hotel window, whether your accommodations lie near the river or our bird garden. For the more proactive wildlife lovers, you will find in this guide some great walks and hikes that will expose you to our wildlife.

Photo: Jenner Inn
View from the Monte Rio Suite
Birds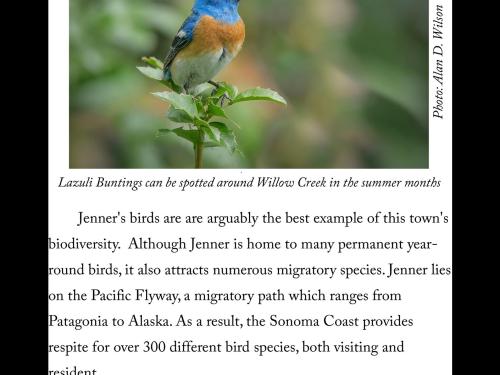 Photo: Alan D. Wilson
Lazuli Buntings can be spotted around Willow Creek in the summer months

Jenner's birds are are arguably the best example of this town's biodiversity. Although Jenner is home to many permanent year round birds, it also attracts numerous migratory species. Jenner lies on the Pacific Flyway, a migratory path which ranges from Patagonia to Alaska. As a result, the Sonoma Coast provides respite for over 300 different bird species, both visiting and resident.

Our very own bird garden behind the Inn provides a sanctuary for a variety of songbirds, hummingbirds, woodpeckers, raptors, and mammals. Located next to the creek, this is a good starting place for admiring wildlife at the Inn. Great Blue Herons visit the meadow in search of gophers, and Belted Kingfishers can be found perched above the creek. Follow the path at the end of the meadow that continues through the oak and alder trees and ends at a scenic waterfall at the back of the property. This shady path is frequented by many songbirds and woodpeckers.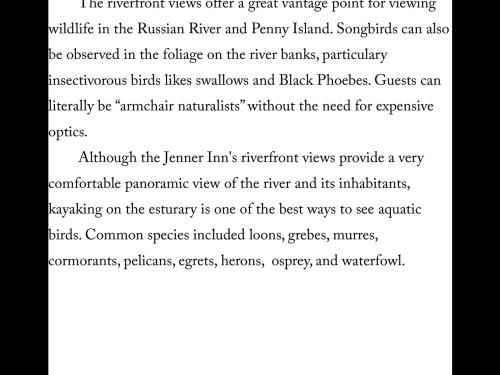 The riverfront views offer a great vantage point for viewing wildlife in the Russian River and Penny Island. Songbirds can also be observed in the foliage on the river banks, particulary insectivorous birds likes swallows and Black Phoebes. Guests can literally be "armchair naturalists" without the need for expensive optics.

Although the Jenner Inn's riverfront views provide a very comfortable panoramic view of the river and its inhabitants, kayaking on the esturary is one of the best ways to see aquatic birds. Common species included loons, grebes, murres, cormorants, pelicans, egrets, herons, osprey, and waterfowl.
Marine and Aquatic Life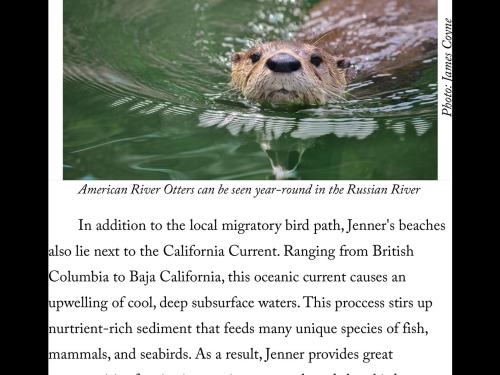 Photo: James Coyne
American River Otters can be seen year-round in the Russian River

In addition to the local migratory bird path, Jenner's beaches also lie next to the California Current. Ranging from British Columbia to Baja California, this oceanic current causes an upwelling of cool, deep subsurface waters. This proccess stirs up nurtrient-rich sediment that feeds many unique species of fish, mammals, and seabirds. As a result, Jenner provides great opportunities for viewing marine mammals and shorebirds.

The various bluffs and headlands in Jenner offer an excellent vantage point for seasonal whale watching. Various whale species can be seen January through May, March is typically the most active season when grey whales can be seen on their way to the Arctic, slowly moving along the shore with their calves. Grey Whales can also be seen, less frequently, October through December.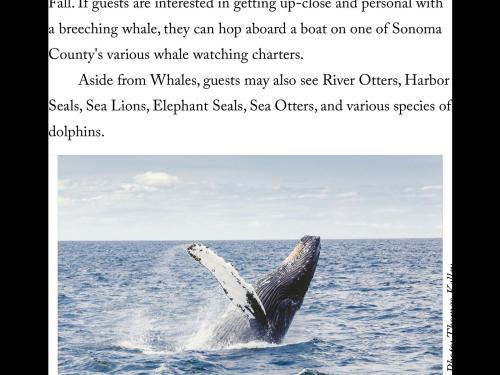 Other whales, such as Humpbacks, Blue Whales, Orcas, Minke, and Fin Whales are occasionally seen May through the Fall. If guests are interested in getting up-close and personal with a breeching whale, they can hop aboard a boat on one of Sonoma County's various whale watching charters. Aside from Whales, guests may also see River Otters, Harbor Seals, Sea Lions, Elephant Seals, Sea Otters, and various species of dolphins.

Photo: Thomas Kelley
March is the best time of year to see Grey Whales
Terrestrial Animals
Photo: Alan D. Wilson

For those wildlife lovers who are craving more than Jenner's birds and aquatic life, there are a handful of land critters worth seeing. Arguably the most special land animal Jenner has to offer is the American Badger, a solitary animal who digs its dens in the headlands. This is not a common animal in the Bay Area and Jenner is one of the few spots this animal can be found in Sonoma County.

Other common residents include Coyotes, Bobcats, Mountain Lions, Grey Foxes, wild pigs, and Long Tailed Weasels. Black Tailed Deer are often seen swimming across the river to forage on Penny Island.
Wildlife Viewing Tips and Etiquette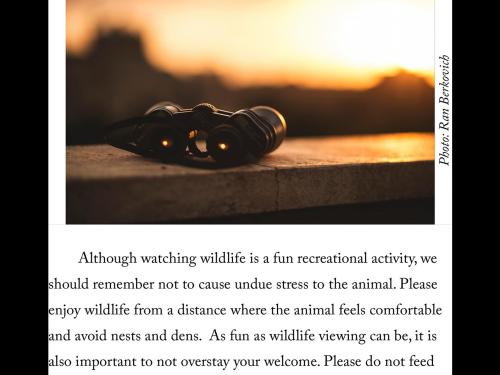 Photo: Ran Berkovich

Although watching wildlife is a fun recreational activity, we should remember not to cause undue stress to the animal. Please enjoy wildlife from a distance where the animal feels comfortable and avoid nests and dens. As fun as wildlife viewing can be, it is also important to not overstay your welcome. Please do not feed wildlife. Socializing them unneccessarily can be doing them a disservice since being cautious of humans is important to their health and safety. Also, respect other wildlife viewers by not scaring off the subject.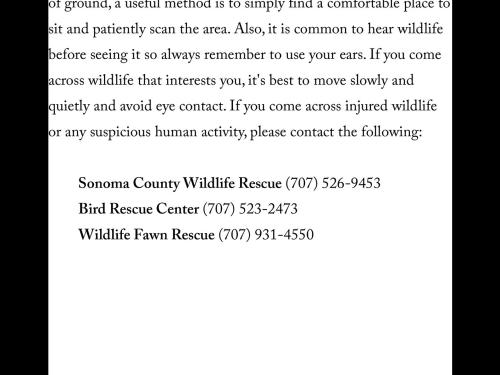 Spotting wildlife can be trickier than expected. Experienced wildlife enthusiasts know in great detail where to look as well as the appropriate time of day, season, etc. Quite often, animals hear us coming down a path before we ever see them, so moving slowly and treading lightly can go a long way. Rather than covering a lot of ground, a useful method is to simply find a comfortable place to sit and patiently scan the area. Also, it is common to hear wildlife before seeing it so always remember to use your ears. If you come across wildlife that interests you, it's best to move slowly and quietly and avoid eye contact. If you come across injured wildlife or any suspicious human activity, please contact the following:

Sonoma County Wildlife Rescue (707) 526-9453
Bird Rescue Center (707) 523-2473
Wildlife Fawn Rescue (707) 931-4550